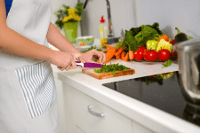 QCF Level 2 Award
This regulated qualification is designed to provide the essential underpinning knowledge and skills to work in the food industry.
It is fully compliant with industry and regulatory standards. Topics covered are regarded by the Foods Standards Agency as important to maintaining good practice in the production and handling of safe food.
The course will suit a diverse range of learners including adults, schools, community groups and businesses etc. who work in or intend to work in the catering industry including those involved in the storage, preparation, cooking and handling of food.
Duration
This is a one-day classroom based course and no previous experience is necessary.
Learning Outcomes
Understand how individuals can take personal responsibility for food safety
Understand the importance of keeping him/herself clean and hygienic
Understand the importance of keeping the work areas clean and hygienic
Understand the importance of keeping food safe
Assessment
Multi Choice Questions (MCQ) for theory and underpinning knowledge.
To Awarded this qualification the Learner must obtain a percentage pass in the MCQ paper.
Certification
A Level 2 national qualification will be issued to the learner, subject to successfully completing the test paper.
Cost
£85 per person