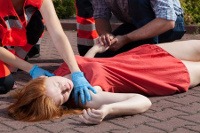 Nationally Recognised First Aid Courses and Awards
Most of our first aid courses are in partnership with qualification bodies.
Working with qualification bodies means we reduce your compliance workload.  Choosing nationally recognised First Aid courses means you do not need to do further due diligence to ensure the course meets your business needs.
Depending on the risks associated with your business and its location(s), your first aid requirements may be as little as a single person training in Emergency First Aid through to a number of first aiders fully qualified in First Aid at Work.  Our range of First Aid courses can address whatever your risk assessment requires.
For further information on business first aid needs and risk assessments see our video.
Qualified Trainers
All of our First Aid trainers hold OFQUAL education and training qualifications. This is in addition to being knowledgeable, well qualified and experienced in their subjects.
Our First Aid trainers are all enthusiastic about teaching first aid courses and undertake regular continuous professional development. The aim of our first aid trainers is to make our first aid courses as fun as possible whilst providing as much depth as possible.  This is the case for all our courses from Emergency First Aid right through to the three day First Aid at Work course.
It is a requirement for all First Aid tutors to hold education and training awards by October 2015.
Flexible Training
Our First Aid courses can be arranged to suit you. We can run courses on consecutive days or split the course over several days or weeks. Let us know your requirements and we will endeavour to meet your needs.
Our First Aid trainers are conscious of your business needs and can provide flexibility in the provision of First Aid Courses in order to minimize the impact on your business.  For example we can structure our three day First Aid at Work Course so that additional students can attend the first day and qualify for an Emergency First Aid qualification.
Please note. Some of our First Aid courses must be completed within a limited time period.
---
For more information on any of our First Aid courses or to discuss any specific requirements please contact us.