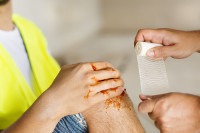 First Aid at Work Qualification Level
SCQF Level 6 Award (Scotland)
RQF Level 3 Award (England, Northern Ireland & Wales)
It is a requirement of the Health & Safety law that employers should provide a safe and healthy environment for their employees. If the assessment of First Aid needs highlights the need for qualified First Aider's, then this Level 3 qualification (Level 6 in Scotland) will provide you with suitable, highly trained personnel. For further information on business first aid at work needs and risk assessments see our video
This comprehensive three-day first aid at work course covers a wide range of First Aid emergencies, enabling all participants to deal with an emergency situation with confidence in a prompt, safe and effective way. This course will give the participants a qualification to the highest level.
Duration
The First Aid at work course is a 3 day course with at least 18 training and assessment contact hours.
First Aid at Work Syllabus
A range of subjects is covered including:-
Legalities, responsibilities and reporting
Resuscitation
Assessment of the situation
Dealing with an unresponsive casualty
Use of AED
Bandaging
Shock (including Anaphylaxis)
Fractures and spinal injuries
Heart attacks
Choking
Control of bleeding
Head injuries
Eye injuries
Poisoning
Chest injuries
Sprains and strains
Burns
Asthma
Diabetes
Epilepsy
Stroke
Catastrophic Bleeding (optional)
First Aid at Work Certification
Assessment is ongoing by the instructor along with a question paper on each day.
Attendees must complete all 3 days of the course to achieve their qualification.
A three year Level 3 Award in First Aid at Work (Level 6 in Scotland) will be issued to the learner, subject to successful assessment. No external assessors are required.
Numbers
A maximum of 12 students can be accommodated on this course and all learners must be a minimum of 16 years of age
Cost
£195 per person